Skip to Content
Seasonal Pool Care in North Dallas, TX
Dive Into Serenity: Introducing Seasonal Pool Service
Picture the perfect summer day with the sun's rays sparkling off your pool's tranquil waters that invite you in for a refreshing dip. That's the idyllic experience we at Pretty Pools aim to deliver to our valued clients in North Dallas, TX, through our comprehensive seasonal pool care. More than a pool cleaning service, our offerings are designed to guarantee the best possible blend of aesthetics, safety, and long-term functionality for your pool. When you choose Pretty Pools, you are selecting a partner committed to preserving and enhancing your pool's sparkle and charm, season after season.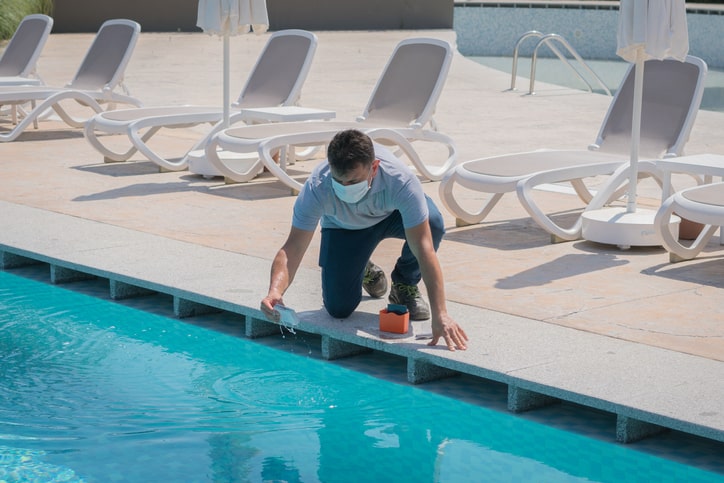 Beyond the Sparkle: The Vital Role of Seasonal Pool Care
To the untrained eye, a pool might look perfect: azure waters sparkling in the sunshine, a tranquil oasis in your backyard. But beneath the surface, there may be a myriad of invisible threats. From harmful bacteria and uninvited algae to unbalanced chemical levels, these issues can not only cloud your water, but also potentially damage your pool's structure and equipment. Particularly in North Dallas, TX, with its varying seasonal changes, it becomes essential to have a thorough seasonal pool service plan to maintain your pool's beauty and functionality through every weather shift.
Diving Deeper: Key Components of Our Seasonal Pool Service
Expert Pool Cleaning
A pool is only as good as its cleanliness. Our specialized pool cleaning services cover every aspect of pool maintenance to ensure that your pool remains free from debris, the filters function at their optimal capacity, and your pool always presents a crystal-clear and inviting appearance.
Water Balancing Mastery
Consistently balanced water is critical for a safe, enjoyable, and healthy swimming experience. Our seasonal pool service includes meticulous testing and adjusting of your pool's pH levels, alkalinity, and sanitizer levels. This thorough approach to water balancing safeguards your pool against unwanted irritants and promotes a pleasing swimming environment.
Comprehensive Equipment Check and Maintenance
A pool's equipment is its lifeline, ensuring seamless operation and cleanliness. We include an exhaustive equipment inspection and required maintenance in our seasonal pool service. With early detection and prevention of potential issues, we help you avoid unnecessary hassles and expenses down the line.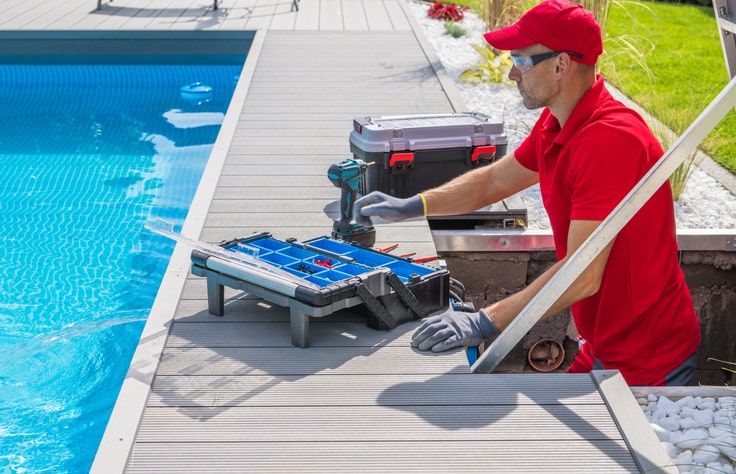 Professional Seasonal Pool Service vs. DIY
The appeal of the DIY approach to pool maintenance can be strong, especially when considering upfront costs. However, a lack of professional knowledge and experience can lead to inadvertent neglect or even significant damage. On the other hand, professional pool cleaning services offer thorough care, freeing up your time and often saving you money in the long run by preventing costly repairs. With Pretty Pools on your side, you gain peace of mind knowing that experts are handling the condition of your pool, letting you simply relax and enjoy it.
Handy Tips for Homeowners on Seasonal Pool Maintenance
To maintain your pool's health and cleanliness between our professional visits, here are some practical tips:
Water Level Management – Regularly check your pool's water level to prevent overstraining the pump, ensuring it is not too high or too low.
Daily Debris Skimming – Skim off leaves and other floating debris from your pool daily. This simple act keeps your pool inviting and assists the filtration system in performing efficiently.
Routine Equipment Check – Regularly inspect your pool equipment for signs of wear or malfunction, catching potential issues before they escalate.
Reach Out to the Pros – If you observe any unusual changes in your pool, whether in water clarity, equipment function, or chemical balance, don't hesitate to contact Pretty Pools. We're here to help.
Why Choose Us for Seasonal Pool Maintenance?
At Pretty Pools, we bring a deep understanding of pools and an even deeper commitment to meeting your needs. Our dedicated team, backed by years of experience and professional expertise, provides exceptional seasonal pool care tailored to your unique pool needs. We believe in delivering more than just a service; we provide peace of mind, ensuring that your pool is always ready for your enjoyment.
Dive Into Sparkling Waters With Pretty Pools
Ready to experience worry-free pool enjoyment at its finest? Contact Pretty Pools today to schedule your seasonal pool service. Our team of seasoned professionals is ready to serve you, ensuring your pool is in top-notch condition all season long. With Pretty Pools, your pool becomes a place of relaxation, not stress, allowing you to savor every splash and every moment of pool ownership to the fullest.
Keep Your Pool Clean and Worry-Free