Skip to Content
Swimming Pool Equipment Repair in North Dallas, TX
Whenever you encounter an issue with your pool equipment, there's no better team to call than the one at Pretty Pools. Opening up your swimming pool is exciting, especially when you're dealing with the heat of North Dallas. However, what happens if your pool equipment malfunctions? You can't properly enjoy your pool when your equipment isn't working correctly. The last thing you want is to have a non-functioning pool in a Texas summer. Here's where Pretty Pools comes in. Our team is made up of experts in swimming pool equipment repair, and we'll be able to identify the problem in no time. Once we have a handle on the problem, we'll get your pool up and running in a matter of hours, in most cases.
What Kind of Pool Equipment Might Need Repairs?
Your swimming pool has lots of different components, all of which need to function properly for you to have fun in the sun. The team at Pretty Pools is proud to offer expertise in repair for all parts of your pool. If you notice a problem with any of the following pool equipment, Pretty Pools can get the job done quickly and effectively:

Pumps
This piece of equipment is instrumental in keeping your swimming pool clean and safe. It circulates water throughout the pool, pushing debris toward the filter.

Heater
If your water's temperature is not rising quickly or at all, you probably have a problem with your heater.

Filters
Another crucial component of your pool, the filters keep your water clean and free of contamination.

Chlorinators
Keeping your pool chlorinated is the best way to kill germs in your swimming pool. A problem with your chlorinator could mean your pool isn't as germ-free as it should be.

Cleaners
Sometimes, a problem occurs with automated pool cleaners. The equipment repair experts at Pretty Pools can help.

Timers
Your pool equipment could be malfunctioning because of a faulty timer. Our team will take a look at the controllers and fix any issues they find.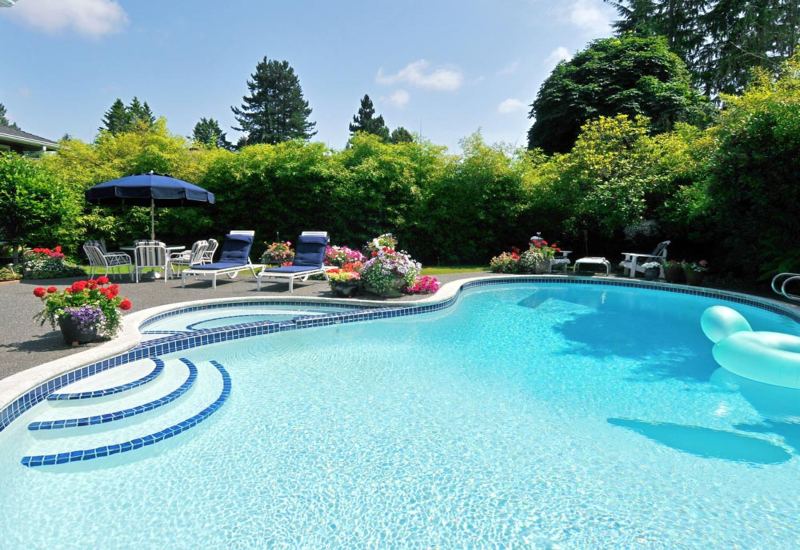 Do You Need Swimming Pool Equipment Repair?
Pool Equipment malfunctions all the time, but it doesn't always mean you need the help of a professional. However, swimming pool equipment repair tends to be a complex process that most homeowners don't have the time to complete themselves. So, when you notice a problem with any piece of pool equipment, Pretty Pools is here to help. It's time to call our professional team if you find any of the following issues:
Blocked filters: If your pool filter isn't working properly, it could result in dirty water. In most cases, you only need to backwash or clean your filter but that doesn't mean problems can't arise in between. Our team will be able to get your water quality back to normal.
Dirty water: Dirt and debris in your swimming pool water can result from more than just a blocked filter. Faulty pool pumps or malfunctioning pipework can also result in cloudy water and the need for professional swimming pool repair.
Faulty heater: Your heater can encounter problems for any number of reasons, including clogged filters and broken components. The Pretty Pools technicians can identify the source of your problem and get to work fixing it.
Service Your Swimming Pool Equipment Regularly
It's true—swimming pools require lots of maintenance to keep them in proper working order all summer long. Luckily, the team at Pretty Pools is always here to help. We're happy to provide our tips and tricks of the trade on how to keep your pool equipment up-and-running. First of all, be sure to keep all parts of your pool clean and free of debris. Use a skimmer every few days to prevent dirt from drifting to the bottom of your swimming pool. We'll also help you keep your pool filter clean and navigate the manufacturer's instructions on additional maintenance. However, no matter how well you care for your pool, there's no substitute for regular service from your swimming pool equipment experts!
Why Choose Pretty Pools for Repair Work?
There are plenty of reasons why North Dallas residents choose Pretty Pools. Most companies will boast excellent customer service and lots of training in repair services, but we strive to go even beyond that. We uphold our values of professionalism and honesty in everything we do, making sure to treat each case with the attention to detail it deserves. We know you want to get back to spending evenings by the pool as soon as possible, and we have the expertise to do the job right the first time. Whenever you need swimming pool equipment repair, Pretty Pools is the best team to call! Contact our pool experts in North Dallas today to discuss your swimming pool repair needs.
Keep Your Pool Clean and Worry-Free