Skip to Content
Pool Leaf Removal in North Dallas, TX
Dive Into Crystal-Clear Waters With Pool Leaf Cleaning
Welcome to Pretty Pools, your trusted partner in professional pool cleaning services. Picture a perfect sunny day in North Dallas, TX, where the sparkling clear water of your pool invites you to cool off. But wait, is that a thin layer of leaves and debris hindering your tranquil experience? Unruly leaf debris can be a real dampener, affecting not just the visual appeal but also the water quality of your pool. Fear not! Our efficient pool leaf removal service is here to ensure you get to enjoy a pristine, inviting swimming pool all year round.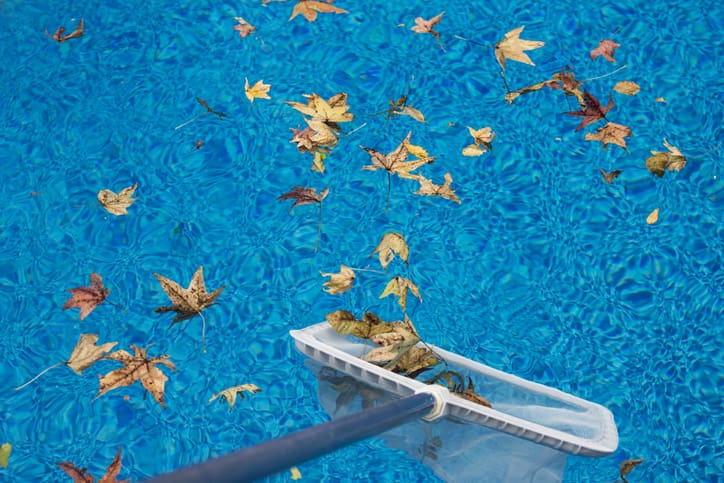 Why Pool Leaf Cleaning Matters
It's not just about keeping your pool looking picture-perfect. Leaf debris, if left unchecked, can lead to a host of issues. For instance, leaves can cause staining, affecting the aesthetics of your pool. The challenge of cleaning leaf stains from pool surfaces is something that pool owners often grapple with. Moreover, decaying leaves can alter the chemical balance of the water, leading to murky conditions and fostering an environment conducive to algae growth. This imbalance can potentially damage the pool's infrastructure, causing blockages and hindering the efficient functioning of pool filters and pumps. Thus, pool leaf-cleaning emerges as a non-negotiable aspect of maintaining a healthy, clean pool.
Experience the Benefits of Professional Pool Leaf Cleaning
Assured Efficiency and Thoroughness
With professional pool cleaning, you can rest assured that every nook and corner of your pool is free from leaf debris. We utilize advanced equipment and proven techniques to remove even the stubborn, hard-to-reach debris, giving you a spotlessly clean pool.
Safeguard Your Pool
Our residential pool cleaning services are designed to protect your pool from potential damage and staining caused by decaying leaves. We understand the harm that neglecting such seemingly innocuous debris can cause and are here to ensure that your pool remains a safe and inviting oasis.
Maintain Water Quality
Our meticulous cleaning process extends beyond removing physical debris. We ensure that the chemical composition of your pool water is balanced, fostering a safer, healthier swimming environment, free from harmful algae and bacteria.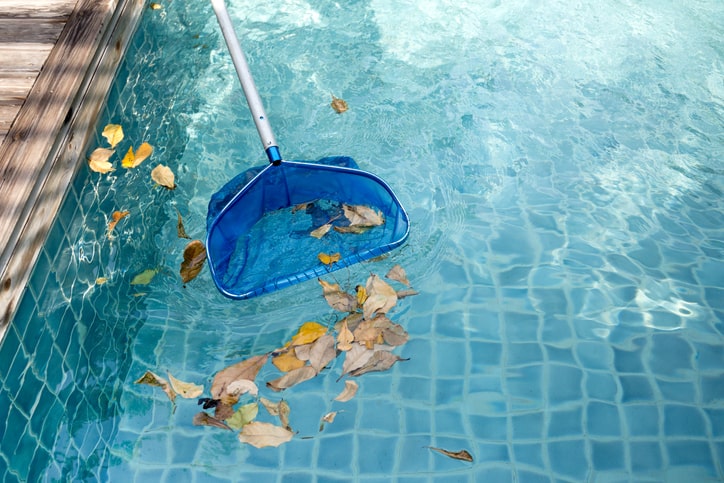 Pretty Pools' Detailed Leaf Cleaning Approach
We at Pretty Pools believe in delivering nothing short of excellence. Our comprehensive leaf cleaning techniques reflect this commitment. Our approach combines manual skimming for surface debris and powerful vacuuming for sunken leaves, ensuring your pool is completely clean. And what about those stubborn stains caused by leaves? Worry not! We use effective cleaning solutions that are tough on stains but gentle on your pool surfaces, bringing back the immaculate look of your pool.
Pool Leaf Cleaning for Every Pool Type
No two pools are the same, and we understand this. Be it an inground pool, an above-ground pool, or a luxurious infinity pool, each comes with its own set of challenges. And this is where our expertise comes into play. Our team is experienced in handling different pool types and designs, ensuring you get a customized pool leaves cleaner service that's just right for your pool.
Opt for Value With Our Cost-Effective Pool Leaf Cleaning
Often, homeowners hold the misconception that professional pool cleaning services are a luxury. However, consider the potential damage that unchecked leaf debris can cause. Think about the time and effort it would take for you to maintain your pool's cleanliness consistently. By investing in our cost-effective pool services, you are taking a step towards preserving your pool's health and longevity, thus saving on potentially significant repair costs and precious time in the future.
Why Choose Pretty Pools?
At Pretty Pools, we're not just about pool cleaning; we're about creating a hassle-free and enjoyable pool experience for you. We combine expertise, passion, and a commitment to customer satisfaction to bring you top-notch pool maintenance services. Our well-trained and courteous professionals are always ready to go the extra mile to ensure you're completely satisfied with our services. You can always count on Pretty Pools for quality, reliability, and a sparkling clean pool that's ready for you to dive in anytime.
Get Your Pool Sparkling Today!
Don't let leaf debris come in the way of your relaxing pool time. Ready to experience the joy of a leaf-free, crystal-clear pool? Contact Pretty Pools today. Let us handle your pool leaf removal needs while you sit back and enjoy your picture-perfect swimming oasis. With Pretty Pools, a clean and inviting pool is just a call away.
Keep Your Pool Clean and Worry-Free