Skip to Content
Pool Heater Repair Services in North Dallas
The Best Pool Heater Repair Service in DFW Area
Pretty Pools is proud to be the best pool service provider in DFW. Our company is locally owned and operated and we place a high priority on customer service. This way you can trust that the professionals fixing your pool are passionate about serving you and making sure you're satisfied. Our services are comprehensive, as we provide a wide variety of pool services. We also provide same-day service, warranties, and a wide variety of products onsite. If you're ready for a company that provides you with honesty, quality control, professionalism, attention to detail, and attentive customer service, wait no longer.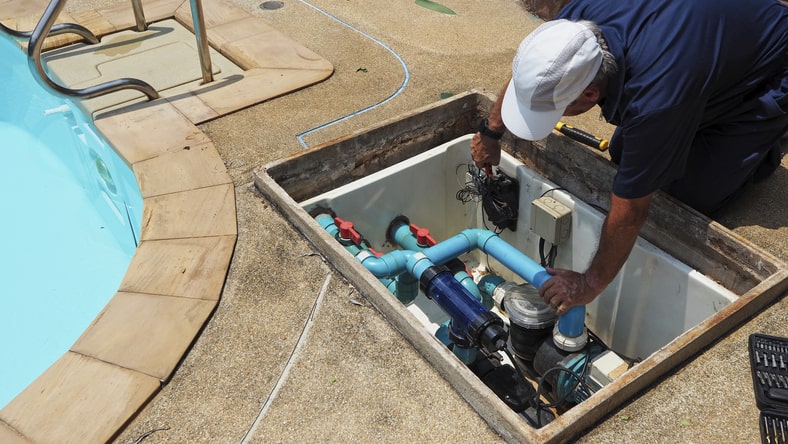 Pool Heater Repair
Our team at Pretty Pools provides comprehensive pool services including pool heater installation & repair. Our technicians are always ready to get your pool back to the warm oasis that it was made to be. We offer same-day service so that you don't have to wait weeks until your pool is up and running again. When you hire Pretty Pools repair services, you can count on pool technicians who can quickly determine the problem and efficiently repair it.
Common Issues
Some of the common issues that our team sees with pool heaters include:

Malfunctioning thermostat
If the thermostat in your pool heater is malfunctioning, your pool will not be able to reach the desired temperature. Occasionally, check to see if the pool temperature is the same as the thermostat's temperature reading. If the numbers don't match up, your thermostat may need to be adjusted or replaced.

Clogged filters
If the pool filters are dirty or clogged, then the water flow is insufficient, which often results in insufficient warmth. To ensure that your pool can stay heated, be sure to clean your filters regularly. If your filters are dirty or clogged and your pool heater isn't heating sufficiently, our team can clean out your filter system.

Unexpected/frequent shutdowns
If your pool heater consistently and frequently shuts down, then there is often a problem deeper in the heater. We will locate the problem and ensure that your pool heater stops shutting down unexpectedly.
Our Pool Heater Repair Services
Our experts at Pretty Pools are highly experienced at providing comprehensive pool services. Our pool heater repair services will help you stay warm and extend your swimming season. We offer same-day service and warranties that provide you with the peace of mind that your pool heater repair needs will be solved quickly and efficiently.
Maintenance Tips
Even though pool heaters will need repairs sometimes, proper maintenance can be the best way to reduce these repairs in the future. You can sign up for our maintenance deals where we come for regular maintenance to ensure your pool stays in the best shape for a long time. You can also practice some of the following basic maintenance tips to ensure that your pool heater is in the best shape
Regularly clean filters
Schedule routine inspections with our team
Regularly clear debris from the top of the heater
Check the pipes that carry water for leaks or cracks
Check the pilot regularly for clean, full flames
When you maintain your pool and take advantage of our maintenance deals, your pool heater will last for many years to come.
Why Choose Us?
So, why choose Pretty Pools? Our team is committed to providing the best comprehensive pool service in North Dallas. Whether you need swimming pool heater repair or one of our many other pool services, you can count on top-notch services from Pretty Pools. Our other services include:
Contact us today to learn more about any of these services. We can't wait to serve you.
Keep Your Pool Clean and Worry-Free