Skip to Content
Pool Opening Services in North Dallas
Pool Opening Services in DFW Area
Pretty Pools is locally owned and operated, and we have been serving our community for many years. When you choose our North Dallas pool opening service, you are choosing a service provider that values honesty, professionalism, quality control, attention to detail, and quality customer service. We provide comprehensive pool services with same-day service and affordable prices.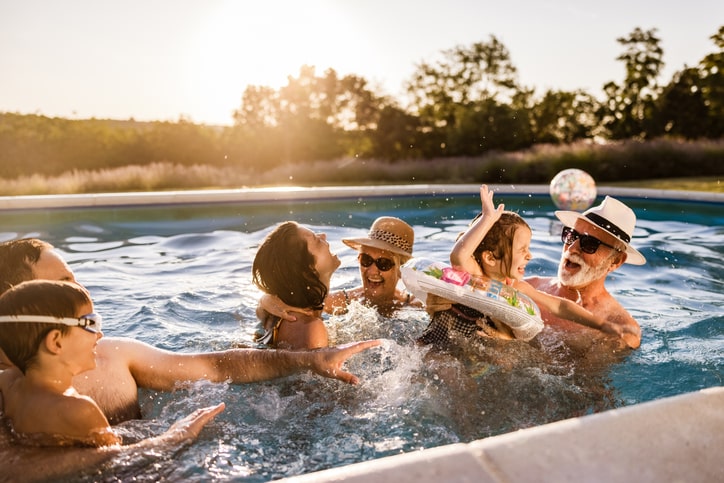 Pool Opening Service
One of the best feelings is when the weather warms up and it's time to open your pool for the season. Before this can occur, there are several things that need to happen to ensure a safe and clean pool for your family and friends to enjoy. Pool opening services are provided to pool owners to make this process as simple as possible.
Pool Opening Services We Offer
At Pretty Pools, we offer comprehensive pool opening services. We will take care of the process from start to end. These services include:
Removing the cover from your pool
Folding and storing the pool cover
Storing water bags, straps, springs, sandbags, and other tools used to close the pool during the winter
Screwing the deck anchors down
Removing winterizing plugs and items from pool functions such as the pool heater
Reassembling the pump and filter, including plugs and O-rings
Reinstalling ladders and handrails
Topping off the water level
Skimming the pool
Testing the chemicals and balance
Starting up pool functions and systems
Assessing the pool heater for any damages or needed repairs
Starting the pool heater if it is free from any damage
Benefits of Professional Service
Our professional pool opening services offer you many benefits, including:
Identifying signs of damage
Starting a regular maintenance schedule
Taking the stress of pool maintenance off your mind
Ensuring the safety of your pool as we keep a close eye on chemical levels
Saving you money and time
What to Do to Prepare for Opening Pool Service
How can you make sure your pool is ready for our pool opening service? Follow these steps:
Remove Debris from the Pool Area: Sweep away dried leaves, branches, and other debris from the pool area.
Ensure Easy Access: Sometimes over the winter, the pool area can become a storage area and debris and storage items can stack up around the pool. Before we come, move items out of the way as needed so that we have easy access to pool equipment.
Maintenance Tips
In order to keep your pool in great shape during the season, there are some basic maintenance tips that you can follow. When you practice using these maintenance suggestions, your pool can remain a relaxing oasis all summer long. These tips include:
Regularly check chemical levels
Inspect equipment for obvious damage or malfunction
Keep the pool clean
Regularly clean filters
Schedule routine inspections with our team
Regularly clear debris from the top of the heater
Check the pipes that carry water for leaks or cracks
Keep Your Pool Clean and Worry-Free