Skip to Content
Pool Filter Cleaning in North Dallas, TX
Dive Into Crystal Clear Waters: Pool Filter Maintenance
Welcome to Pretty Pools, your trusted partner for all your swimming pool maintenance requirements in North Dallas, TX. Our reputation is built on a deep understanding of what your pool needs to stay healthy and inviting—pool filter cleaning plays a critical role in it. A sparkling pool that mirrors the clear skies is not just a sight to behold, but also an indicator of an optimal swimming environment. The key player in maintaining this crystal clarity? An efficiently functioning pool filter. It stands guard, ensuring effective water circulation, thorough filtration of impurities, and overall, supporting the peak performance of your swimming pool system.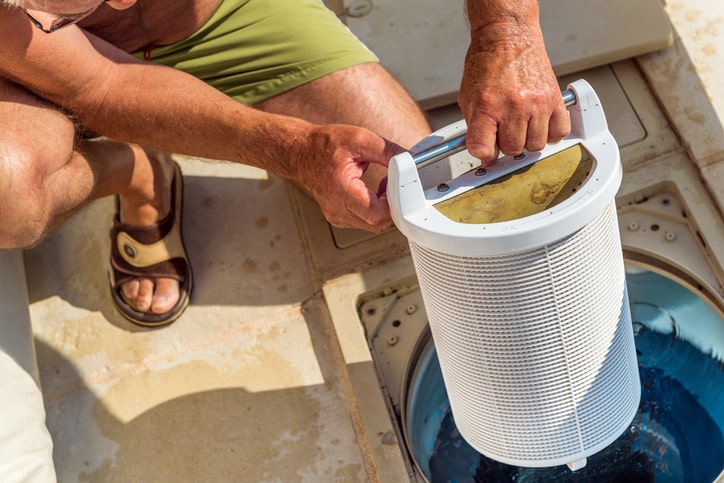 Grasping the Necessity of Pool Filter Cleaning
A clean pool filter is an unsung hero behind your clean and sparkling swimming pool. However, often, the importance of pool filter cleaning is underestimated. To ensure the cleanliness and longevity of your pool, cleaning a pool filter isn't a task you can put on the back burner—it is of paramount importance. A well-maintained filter effectively traps and removes debris, contaminants, and impurities that, if unchecked, can compromise the health of your pool. It helps you sustain crystal-clear water and prevent the proliferation of harmful bacteria, preserving not just the look but also the lifespan of your pool and equipment.
Decoding the Variety of Pool Filters
The pool filter landscape can be categorized into three main types, each with its unique features and specific maintenance requirements. Let's unravel the mysteries of these filters:
Cartridge Filters
Their efficient operation under lower pump pressure means reduced wear and tear on your pool pump, making it more durable. Routine pool filter maintenance will extend their life and ensure your pool remains a joy to swim in.
Sand Filters
These filters use a bed of sand to trap debris as the pool water passes through. Regularly backwashing the filter keeps it performing at its best.
Diatomaceous Earth (DE) Filters
The superstars of filtration, DE filters provide the clearest water because they trap particles as small as 5 microns! Keeping them at peak performance involves routine backwashing and replenishment of the DE powder.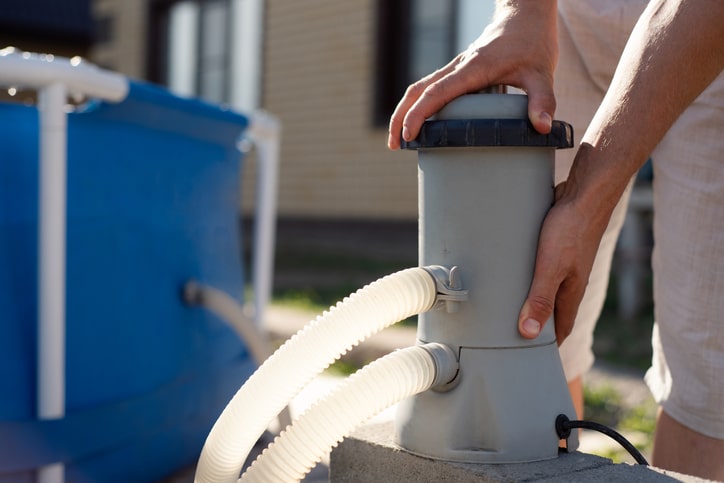 Determining the Need and Timing for Pool Filter Cleaning
Every pool owner should know the telltale signs of a dirty filter and the frequency of cleaning required. Reduced water flow, cloudy water, or an increase in the filter's pressure gauge reading are clear signs that it's time for a thorough pool filter cleaning. As a general guideline, cartridge and DE filters require cleaning every six months, while sand filters need backwashing every month. But remember, every pool has unique usage patterns and environmental factors, so always monitor your pool's water clarity and the filter's performance.
Mastering Correct Pool Filter Cleaning Procedures
While each filter type may demand slightly different pool filter maintenance procedures, some general steps apply across the board:
Power Down – Always turn off the pump first.
Disassemble and Remove – Carefully disassemble and remove the filter.
Cleanse and Rinse – Clean the filter using a garden hose or a special filter cleaning solution.
Inspection – Inspect the filter for any damages or wear and tear.
Reassembly – Once clean and inspected, reassemble and reinstall the filter.
Unlocking the Benefits of Professional Pool Filter Cleaning
Choosing professional pool filter cleaning services opens a world of benefits. Our experts, armed with years of experience and thorough knowledge, ensure an exhaustive and efficient cleaning process that DIY efforts often can't match. We know the ins and outs of all types of filters and can catch potential issues early—saving you from hefty repair costs down the road. Besides, trusting us with your pool's maintenance gives you the ultimate convenience—you don't have to worry about the tedious chore of cleaning and maintaining the filter yourself. Our job is to ensure your pool is in perfect condition; your job is to dive in and enjoy it.
Choosing Pretty Pools: Your Partner for a Pristine Pool
Why choose Pretty Pools for your pool filter maintenance needs? The answer is simple—we are committed to delivering impeccable pool services that prioritizes your satisfaction. Our team of trained professionals guarantees a meticulous and efficient cleaning job, going above and beyond to ensure your pool is at its best. We believe in offering excellent service at competitive prices, so you don't just save time, but also enjoy substantial cost savings. With Pretty Pools, crystal-clear waters are no longer a luxury—they're given.
Take the Plunge With Us Today
Are you ready to dive into flawless, crystal-clear waters? Connect with us today for all your pool filter cleaning needs in North Dallas, TX. At Pretty Pools, we're all about helping you achieve and maintain the pristine pool of your dreams. We look forward to becoming your trusted pool care partner, ensuring you enjoy a clean, healthy, and vibrant pool all year round. Don't settle for less—reach out to us today, and experience the Pretty Pools difference.
Keep Your Pool Clean and Worry-Free