Skip to Content
Weekly Pool Services in North Dallas
Weekly Pool Cleaning Services in DFW Area
For many years, Pretty Pools has provided the North Dallas community with comprehensive pool services. Whether you're looking to maintain, repair, install, or upgrade your pool, you can contact the experienced professionals at Pretty Pools for expert assistance. We offer a variety of services, including weekly pool services to keep your swimming pool in pristine condition.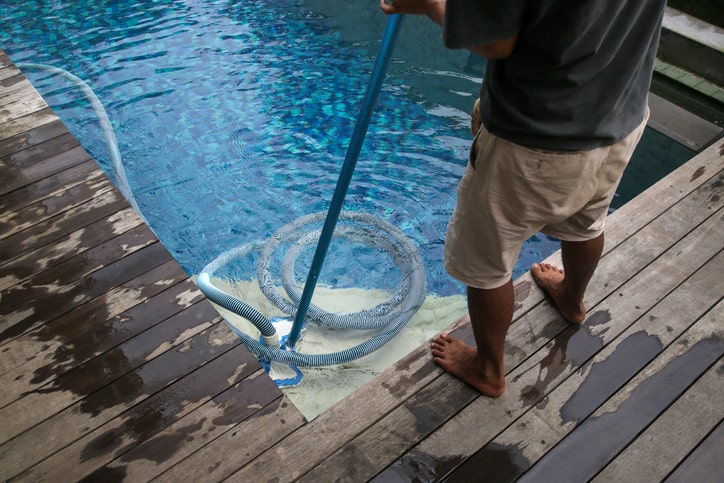 Weekly Pool Service
A pool that is maintained is a safer, healthier, and more enjoyable pool. When you sign up for this pool service, you will receive weekly visits from our expert pool technicians. During these visits, our team will provide services that will keep your pool shining and inviting. It's important to keep your pool maintained for several reasons, including:
Reducing the frequency and expense of future repairs
Prolonging the life of your pool
Avoiding any down time during pool season
Keeping your pool safe for family and friends
Saving money by performing preventative services
When you hire our weekly pool cleaning maintenance service, you can expect expert services that keep your pool enjoyable all season long.
SERVICES WE OFFER
During our weekly visits, we provide the following services to keep your pool in the best shape:
Testing and balancing chemical levels
Cleaning the pool, which includes:

Removing debris
Skimming the surface
Vacuuming the bottom of the pool

Cleaning the pool equipment
Inspecting systems for leaks or damage
Maintaining proper water circulation
Emptying the skimmer and pump basket
Emptying the pool cleaner bag
Checking filter pressure
Backwashing the filter monthly or more often if needed
BENEFITS OF USING A PROFESSIONAL WEEKLY POOL SERVICE
While you can maintain and clean your pool on your own, the best method of maintaining your pool is to hire a professional weekly pool service
Our expert pool technicians use state of the art equipment/technology to save you time and money. More benefits include
Preventing algae growth
Maintaining proper chemical levels
Prolonging the life of your pool equipment
Ensuring the safety of swimmers
When you choose Pretty Pools for your maintenance needs, you will have the peace of mind of knowing that your pool is in the best hands.
Maintenance Tips
To keep everything running smoothly in-between weekly service appointments, you can:
Check water levels
Clean out skimmer baskets
Check filter and pump
Inspect the pool cleaner
Check the pump baskets
Why Choose Pretty Pools?
Our goal is to make sure your pool is safe, beautiful, and inviting all year long. Along with our weekly pool services, we also offer pool equipment repair, pool filter repair, pool supplies, and more.
Contact Us Today
If you are ready to learn more about the benefits of weekly pool services from the professionals here at Pretty Pools, you can contact us today.
Keep Your Pool Clean and Worry-Free