Skip to Content
Pool Supplies in North Dallas, TX
Pool Cleaning Supplies and Accessories in North Dallas, TX
Swimming pools have a way of bringing people together. To ensure the fun lasts all summer long, you must keep the water clean and sanitary. At Pretty Pools, we are here to help you upgrade or maintain your backyard swimming pool with various pool supplies and accessories. Do you have questions about pool chemicals or water testing? Need advice about which pool products to use in your situation? Feel free to contact us online for more information. We also have a pool supply store in Flower Mound, so visit us today for all your pool supply needs in the North Dallas area!
We Carry a Wide Range of Swimming Pool Supplies
Your backyard swimming pool is probably one of your favorite features on your property. You love playing in the pool with your kids and lounging at the edge of the water. Just remember, pool ownership is a big responsibility. You need the right pool supplies to keep the water clean, safe, and fun. Here are the types of products you'll find at our retail stores in North Dallas:

A Variety of Chemicals
Swimming pools need sanitizers, oxidizers, clarifiers, balancers, and specialty chemicals to keep the water crystal-clear all season long. Whether you're looking to open or close your pool, remove stains or algae blooms, or improve the pH level, we have the chemicals you need.

Water Testing Supplies
Pool test kits allow you to monitor the water's chemical levels at any time. We carry easy-to-read test strips and reagent chemical kits to meet all your water testing needs.

Swimming Pool Replacement Parts
Your pool relies on numerous pieces of equipment to filter, heat, and circulate the water. You may need replacement parts to fix a broken pump or upgrade your existing system. Either way, you'll find all the products you need at Pretty Pools.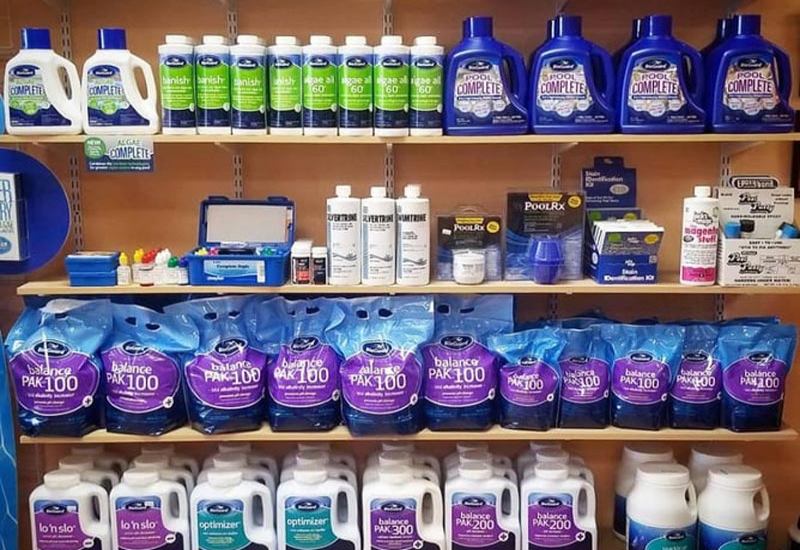 BioGuard Chemicals: The Number-One Selling Pool Chemical Brand
BioGuard is our number-one selling product. From water enhancers and sanitizers to chlorine alternatives and saltwater pool products, you have access to everything you need for pool maintenance and cleaning from this trusted brand. BioGuard has been tested and proven effective at delivering reliable results and simplifying the pool care process. As a BioGuard Dealer, Pretty Pools carries an extensive array of these high-quality solutions. We are undisputed water care experts, so you can trust us to recommend the latest tools and methods for keeping your pool clean and safe.
Our Friendly Staff Is Here to Assist You
At Pretty Pools, we make your pool all that you want it to be and more. We place a strong emphasis on customer service and satisfaction, so you should never feel a lapse in communication or quality when you work with us. If you have any remaining questions, or you want to schedule pool services in North Dallas, please contact us online. Then, stock up on pool cleaning supplies and accessories today by visiting one of our stores in Flower Mound, Texas.
Keep Your Pool Clean and Worry-Free