Skip to Content
Equipment Replacement & Upgrades For Pools in North Dallas, TX
Upgrade Your Swimming Pool Equipment in North Dallas, TX
When you live in Texas, a swimming pool is a welcome respite from the scorching hot summers. Everyone loves going for a dip as temperatures skyrocket. However, many of us overlook the crucial equipment that goes into keeping your pool clean and healthy for you and your family. Every once in a while, swimming pool equipment might malfunction in a way that makes repair too expensive or impossible, even for the best technicians. In this case, it's time to consider a pool equipment upgrade. Upgrading your equipment regularly will keep your pool up-and-running throughout the North Dallas summer months and remove the hassle of scheduling frequent repairs.
Don't know where to start when it comes to swimming pool upgrades? The team at Pretty Pools is here to help you make the best decision for your pool's needs.
Upgrade These Components of Your Swimming Pool Equipment
At some point in its lifespan, nearly any piece of swimming pool equipment will need an upgrade. Whether your swimming pool pump has been working hard for years or your pool filter was broken in an accident, be sure to discuss the possibility of an upgrade with the team at Pretty Pools. Our technicians commonly suggest upgrades to the following equipment, among others:

Swimming Pool Pump
Upgrading your pool pump means a longer lifespan and more time spent in your crystal-clear pool. Pumps are an essential part of maintaining a functioning swimming pool. If your swimming pool pump is in need of an upgrade, our team will work with you to find the perfect system to meet your pool's needs.

Swimming Pool Filter
A reliable pool filter is essential to making sure your swimming pool is usable all summer long.

Automation Controls
If you want to be on the cutting edge of pool equipment, ask Pretty Pools about an automation upgrade for controlling the pool and equipment with an app.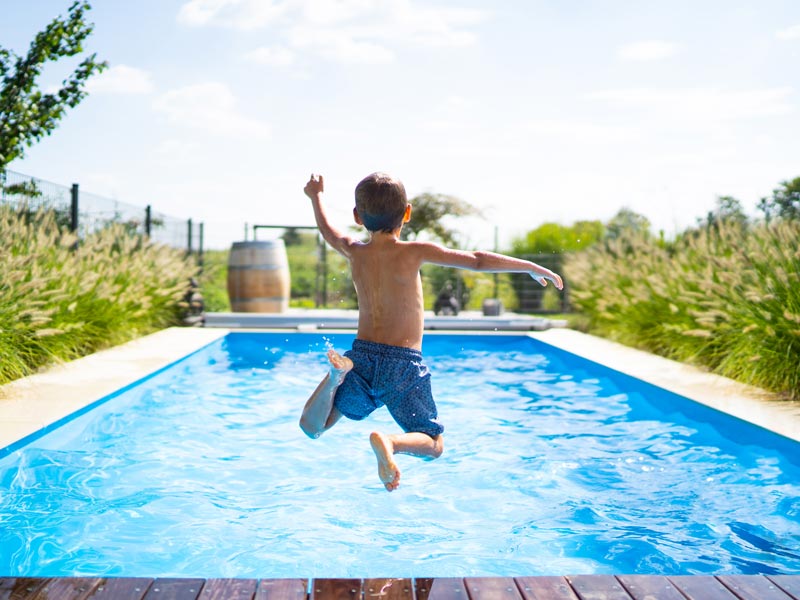 Stay on Top of Replacing Your Pool Equipment
At Pretty Pools, we're happy to offer an array of swimming pool services when it comes to keeping your pool equipment in top shape. Our team will help you create a maintenance and replacement schedule based on your specific equipment. After all, the better the upgrade, the longer you should be able to go without investing in a replacement. Unfortunately, there's no one answer to how often you'll need to upgrade. This varies greatly depending on how much you use your pool and the quality of your current swimming pool equipment. However, you can have peace of mind knowing the team at Pretty Pools is always here to give you an accurate estimate of when you might be due for an upgrade or replacement.
Why Should I Upgrade My Pool Equipment?
Besides a longer lifespan, you'll enjoy a few additional benefits of your pool equipment upgrade. Many homeowners enjoy cleaner and healthier water when they invest in pool upgrades for their pump, filter, and chlorinator. However, you may also notice some energy savings depending on your upgrade choices. Many new models feature more environmental-friendliness, as well as keep your energy bills to a minimum. Ask the team at Pretty Pools for the specifics on how upgraded equipment can benefit you.
How Do I Know When to Upgrade?
How do you know when you need an upgrade to your swimming pool equipment, or if a simple repair will suffice. Perhaps your system isn't as efficient as it used to be, or maybe you're constantly calling for repair work. If you think it might be time for a pool equipment upgrade, discuss your concerns with the professionals at Pretty Pools. We can help you decide whether you need an upgrade or repairs can get the job done.
Reasons to Choose Pretty Pools for Upgrades
Why choose Pretty Pools for all your pool equipment needs? Not only are we experts in swimming pool upgrades and the latest equipment, but we're also dedicated to an excellent customer experience. We value attention to detail and quality in each of our services, and our customers have come to trust us whenever they need professional service. In addition to a sense of professionalism, another one of our values is honesty. Whenever you call on us for pool equipment upgrades, you can expect an honest estimate of the cost and no upselling to purchase additional items or services you don't need. Our commitment to our customers and a job well done is what makes Pretty Pools a leader in the North Dallas pool industry. Contact our local pool experts today to schedule swimming pool services.
Keep Your Pool Clean and Worry-Free