Skip to Content
Pool Light Repair in North Dallas, TX
Introduction to Pretty Pools Light Repair in North Dallas, TX
At Pretty Pools, nestled in the heart of North Dallas, TX, a well-lit pool is a cornerstone of a delightful swimming experience. Pool lights not only elevate the aesthetic appeal of your pool but also play a pivotal role in ensuring safety during those tranquil nighttime swims. When these lights falter or demand repair, they can cast a shadow over the serene ambiance of your pool area. That's precisely where our expertise shines. With our profound knowledge and experience in pool light repair, we pledge to restore the luminance and safety of your pool, making it a radiant haven once again.
Dive Into Our Pool Light Repair Services
In North Dallas, we are renowned for our comprehensive pool light repair services. Each service is meticulously designed to cater to the diverse needs of our esteemed clientele:

Inground Pool Light Repair
Our technicians are adept at ensuring that lights embedded within the pool's structure function at their peak.

LED Pool Light Repair
Modern LED lighting systems marvel at energy efficiency and longevity. We specialize in addressing any issues related to these lights.

Pool Light Fixture Repair
Whether fixing, we ensure that the housing that cradles the pool light remains robust and functional.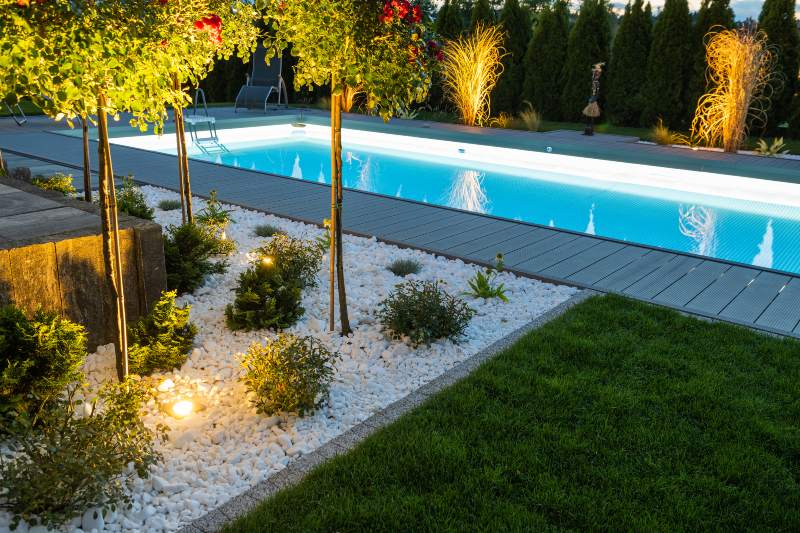 Indicators That Your Pool Light Needs Replacement
Being vigilant and recognizing the early signs of pool light issues can save both time and money. You may need pool light replacement if you notice the following issues:
Flickering or Dimming Lights – Such inconsistencies can be a precursor to a failing bulb or deeper electrical concerns.
Pool Lights Not Turning On – A glaring sign that the lighting mechanism has an underlying problem.
Water Inside the Light Fixture – A potentially hazardous situation requiring immediate professional intervention.
Challenges in Pool Light Repair
While pool light repair might seem like a straightforward task, it's riddled with potential complications. Issues may include the following:

Electrical Issues
Combining electricity and water can be a difficult mix. It's essential to approach such repairs with caution and expertise.

Water Leakage
Even a minor water ingress into the light fixture can lead to significant issues, including short circuits.

Fixture Damage
Corrosion, wear, and tear over time can compromise the integrity of the light fixture.
Potential Reasons Behind Malfunctioning Pool Lights
A deeper understanding of the root causes behind pool light malfunctions can aid in their swift resolution:

Burnt Out Bulbs
Often the primary culprit behind non-functional pool lights.

Tripped Electrical Circuit
Built-in safety mechanisms can sometimes inadvertently cut off power to the lights.

Faulty Wiring
Age and environmental factors can degrade wiring, leading to malfunctions.
The Importance of Adequate Pool Lighting
Beyond mere aesthetics, proper pool lighting serves a multitude of purposes. Benefits include the following:
Visibility – It's paramount to ensure clear visibility in every nook and cranny of the pool, thereby minimizing the risk of accidents.
Ambiance – A well-lit pool can transform the ambiance of your backyard, making it a perfect spot for relaxation and gatherings.
Property Value – Investing in top-notch pool lighting can significantly enhance the overall value of your property, making it a sought-after asset.
Why Trust Pretty Pools for Your Lighting Needs?
Our reputation in North Dallas is built on a foundation of trust, expertise, and unwavering commitment. Our services offer multiple benefits:

Expertise
Our team, with its vast experience, is equipped to handle a diverse range of pool light repairs.

Quality Service
Every repair task we undertake is executed with precision, ensuring lasting results.

Customer Satisfaction
Our dedication to ensuring customer delight is unparalleled in North Dallas. We take immense pride in the trust our clients place in us.
Get in Touch for Expert Pool Light Repair
Facing issues with your pool lights in North Dallas, TX? Let Pretty Pools illuminate the path to a solution. Our team, with its unmatched expertise, is always ready to assist you in restoring the brilliance and safety of your pool. Don't let dimmed lights dampen your spirits. Reach out to us today for expert advice and impeccable service.
Keep Your Pool Clean and Worry-Free