Skip to Content
Pool Maintenance Company in Dallas, TX
Perfect Pools Require Expert Pool Maintenance
Everyone wants a pool, especially in the midst of a hot Texas summer. Not everyone is able to put in the work to maintain the flawless oasis look and the safe and relaxing refuge it's meant to be for your friends and family. Luckily, you can turn to Pretty Pools for the best pool maintenance company in North Dallas, TX, and the surrounding areas.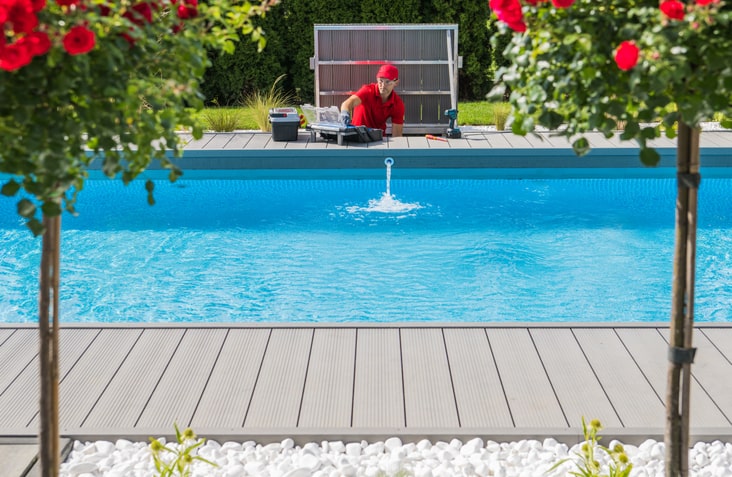 Customized Maintenance Solutions
Pools need some TLC year-round to be in their best shape once summer rolls around. By maintaining your pool throughout the winter with subtle but effective tips, you'll ensure a smooth and streamlined pool opening once the temperature cranks up, and you'll want to host your friends and family for the summer.
Of course, keeping up with your pool maintenance seasonally isn't quite enough. Weekly pool maintenance is essential in maintaining a good-looking pool that's equally safe to swim in. Plus, investing in quality maintenance means you'll avoid expensive repairs in the future, as we can detect potential problems and prevent excessive dirt build-up.
Our Comprehensive Maintenance Services
You can effectively cover all your pool's maintenance needs over the off-season and throughout the summer with our customized maintenance solutions catered to your unique needs. The quality and consistent maintenance we provide includes:

Pool Pump Maintenance
We protect your pump from leaks by properly moisturizing it throughout the seasons.

Pool Chemical Maintenance
Leave it to us to conduct thorough pool water testing of the chlorine, alkalinity, calcium hardness, cyanuric acid, and pH levels so you can soak safely in your pool's waters.

Pool Water Maintenance
Our team uses state-of-the-art skimmers to purify your pool of all floating debris.

Pool Filter Maintenance
We'll check your filters regularly to ensure everything is flowing smoothly, along with securing the flow of your backwash.

Pool Brushing
Skimming the water surface and checking your pumps and chemicals isn't enough. Some elbow grease is required to make your pool tiles, floor, corners, and ladders from accumulating unwanted grime over time.
Why Trust Us for Your Pool Maintenance Services?
Along with our thorough and effective pool services performed by experienced technicians passionate about keeping your pool the envy of the block, you'll be investing in our use of top-tier industry equipment that leaves your pool pristine. While we boast the best services across the Dallas-Fort Worth metropolitan area, it's important to us that all our existing and potential clients can invest in quality maintenance, which is why we offer budget-friendly assistance to keep your pool in luxurious shape yet at a friendly price tag.
Contact Us to Start Maintaining Your Pool
At Pretty Pools, we've successfully served our customers with outstanding comprehensive pool maintenance services, consistent and thorough cleaning, and efficient repairs. Our talented team has served nearly 4,700 happy customers across 24 cities in the Dallas-Fort Worth area. We're confident in our ability to help you maintain a beautiful backyard oasis without effort. Don't wait to take care of your precious pool- reach out to us today to get started on your residential pool maintenance.
Keep Your Pool Clean and Worry-Free