Skip to Content
Pool Pump Repair in North Dallas
Importance of Pool Pump Repair and Maintenance
Pool pump repair and maintenance services are essential for keeping your pool's circulation system running efficiently. A properly functioning pump helps to circulate water, filter out impurities, and distribute chemicals evenly, ensuring a clean and safe swimming environment. Regular maintenance can prevent breakdowns and prolong the life of the pump, while timely repairs can save you from costly replacements. Hiring a professional swimming pool pump repair service can provide peace of mind and ensure your pool remains in top condition.
How Long Should Your Pool Pump Last?
A pool pump can last anywhere from five to 15 years, depending on various factors such as:
Usage frequency and duration
The quality of the pump
Environmental conditions such as exposure to the sun, heat, and cold
Water chemistry and chemical treatment levels
Maintenance
Power outages or surges
Proper maintenance, such as cleaning the strainer basket and checking for leaks, can extend the life of the pump. On the other hand, running the pump continuously or exposing it to harsh weather conditions can shorten its lifespan. To ensure your pump lasts as long as possible, it's recommended to have it serviced regularly by a professional and replace it when necessary
Why Did Your Pool's Pump Stop Working?
There could be several reasons why your pool pump has stopped working. Some common causes include
Without the right training and expertise, diagnosing the problem with a malfunctioning pool pump can be difficult. If your pump has stopped working, it is best to have it inspected by a professional pool repair service to determine the root cause and provide a solution.
A tripped breaker or blown fuse
A clogged strainer basket or impeller
A damaged or worn-out motor
A leak in the pump or plumbing system
An overheated motor caused by running the pump continuously or low water levels
Power outages or surges
A clogged filter or skimmer basket
An incorrect pump size for the pool
A worn-out or damaged seal or bearing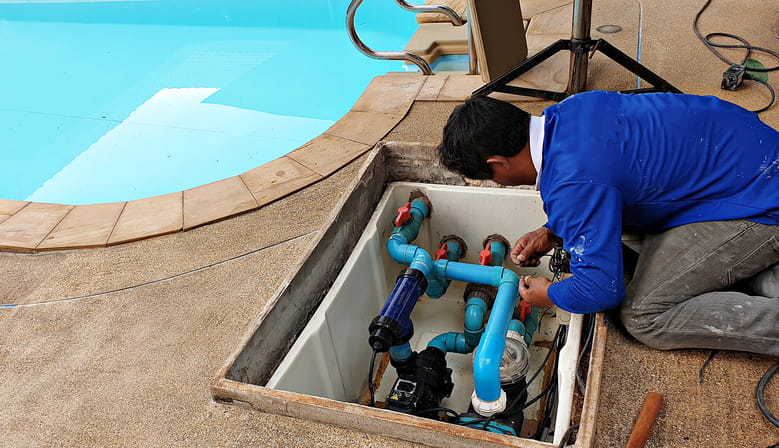 Signs a Pool Pump Has Gone Bad
Signs that your pool pump may have gone bad include:
Noisy operation
Water leakage from the pump or connections
Air leakage, causing bubbles in your pool
Tripped breakers or blown fuses
Difficulty starting or stopping the pump
Reduced water flow or weak suction
Overheating
Even if your pump is well-maintained, it will eventually wear down over time. While regular maintenance can significantly delay a failure, it will eventually occur. If you notice any of the above signs, or your pump is getting older, it is time to consider a repair or a replacement.
The Types of Pool Pumps We Repair
Pretty Pools offers repair services for a variety of pool pump types, including
Our friendly team of technicians is trained and experienced in repairing all types of pool pumps, ensuring that your pump is functioning properly and efficiently. Your pool pump repair cost can vary depending on the type and extent of the issue, as well as the cost of parts and labor. We can inspect your pump, diagnose the issue, and provide you an accurate estimate for the repair cost.
Single Speed Pumps: These pumps have a fixed speed and are typically less expensive.
Two-Speed Pumps: These pumps offer two adjustable speeds for maximum circulation and energy savings.
Variable Speed Pumps: These pumps have adjustable speeds and are more energy efficient. They can be programmed to run at different speeds based on the pool's needs.
Why Choose Us?
At Pretty Pools, honesty, professionalism, and exceptional customer service are at the forefront of our business values. Our priority is to offer recommendations that are in your best interest, with a focus on quick response times and high-quality customer service. We take great pride in our attention to detail and strive to keep your pool and equipment in top condition. Our management team is hands-on and conducts thorough quality control inspections to guarantee that you receive only the best service.
Call Us Today
Contact us today for expert pool pump repair services. We're dedicated to providing fast, reliable, and cost-effective solutions to keep your pool running smoothly.
Keep Your Pool Clean and Worry-Free