Skip to Content
Pool Cleaning & Maintenance
Look to Pretty Pools for Pool Cleaning Services in North Dallas, TX
If you're a long-time pool owner, you know skimping on swimming pool cleaning and maintenance isn't a good idea. Before long, a neglected swimming pool becomes a breeding ground for bacteria, not to mention the debris that quickly collects at the top. To keep your pool usable, regular cleaning and professional maintenance are musts. For North Dallas pool owners, Pretty Pools offers the solutions and advice you need to keep your swimming pool up-and-running all summer long. Nothing's worse than wanting to go for a dip in the pool on a 100-degree day and finding a mess in your pool. Our technicians are here to help you keep your pool in top shape!
Services Included in Our Cleaning Package
At Pretty Pools, we pride ourselves on comprehensive swimming pool cleaning services. We leave no stone unturned when we visit your property, making sure everything is in proper working order. Here's a brief overview of what you can expect from our pool cleaning service:

Skimming
We'll use a net to remove any floating debris marring the surface of your pool.

Filter Evaluation
Our team takes special care to examine your pool filter and backwash regularly.

Brushing
As dirt builds up on your pool walls, corners, ladders, and more, we'll be sure to brush thoroughly to help prevent algae and stains.

Baskets
All skimmer and pump baskets will be checked and emptied.

Chemical Testing
Before we finish our pool cleaning services, we'll test the pH, chlorine, alkalinity, cyanuric acid and calcium hardness levels in your pool and ensure everything is properly balanced.
How Often Should I Request Pool Cleaning Service?
While each of our pool services is important to the health of your swimming pool, none more so than cleaning. You'll want to keep up with a regular cleaning regimen, whether that means requesting services from Pretty Pools or cleaning up some of the debris yourself. Most pool owners should clean their pool at least once a week, if not every day. Each week, you'll want to brush and vacuum your pool as needed and clean the outer edges. It's also a good idea to request a professional pool water cleaning services from Pretty Pools every season. This way, your pool stays in top shape for the whole Dallas summer.
Identifying Signs That You Need Pool Service
Whenever you need swimming pool cleaning services or maintenance, Pretty Pools should be your first call. When you notice the signs of something going awry with your pool or pool equipment, you need professionals you can count on. We recommend calling our team of expert technicians if your swimming pool water becomes dirty or unclear, or if you notice cracks or dirt buildup along the walls. With the array of complex issues that can arise with pool maintenance, it's always advisable to call an expert no matter the problem. The team at Pretty Pools has all the pool supplies and knowledge needed to have you swimming again in no time.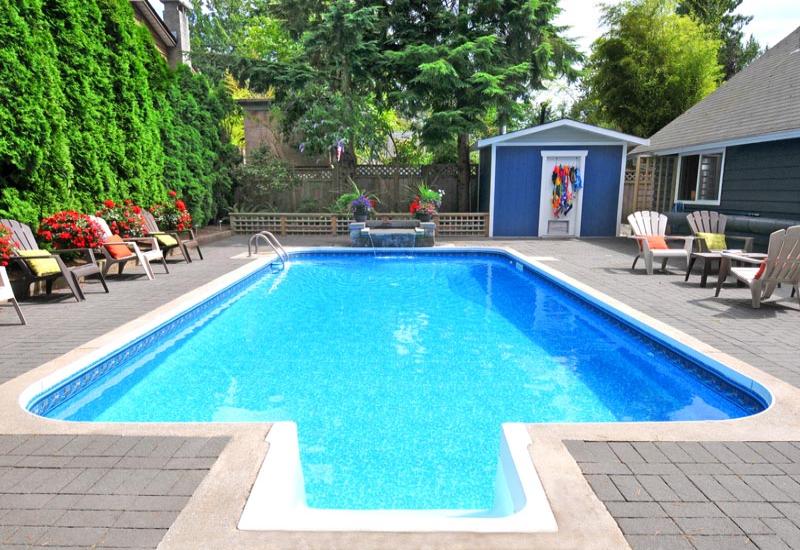 Our Expert Swimming Pool Maintenance Tips
Want to know how to properly maintain your pool on your own? While you'll need to call Pretty Pools for periodic service, there's plenty you can do to keep your pool clean throughout the year. First, be sure to skim your pool at least once a week. Removing the debris early keeps it from floating to the bottom, where it will be harder to clean out. Our other tips for maintaining your pool include:
Monitor your swimming pool water chemical balance and always use the appropriate amount of chemicals
Make sure your chlorinator is in proper working order
Check your water level regularly, as a too high or low water level can cause malfunctions with your equipment
Clean out your pool filter regularly to maintain your pool's crystal-clear quality
Why Hire a Professional for Pool Cleaning and Maintenance
When it comes to swimming pool maintenance, it's always best to have a professional on your side. While you can perform some cleaning tasks on your own, the experts have a wide range of knowledge to fix any problems and anticipate issues before they occur. You'll have peace of mind knowing the job's been done correctly the first time. At Pretty Pools, we remain committed to honest customer service, along with attention to detail in every job we complete. If you're looking for a little extra help with pool cleaning and maintenance, reach out to our North Dallas pool experts today!
Keep Your Pool Clean and Worry-Free