Skip to Content
Pretty Pools Can Complete Your Pool Inspection Checklist
A swimming pool inspection is an important step when buying a home with a backyard pool. If you don't know the history or condition of the installation, an inspection puts your mind at ease. Sure, you may be able to spot obvious issues with an untrained eye, but complex or hidden problems require a professional's attention. To learn more about what pool inspection service entails and why it's so important, contact Pretty Pools in North Dallas today.
Do I Need a Pool Inspection?
The most common reason to schedule a pool inspection is if you're buying a property with a pool. Even if you simply want to check the status of your existing pool, scheduling an inspection is the right move. Reasons you would need our pool inspection service include:

Home Purchase
If you're a homebuyer, you want to know about the safety and overall condition of a property's backyard pool. Your lender may even require a full written report before approving your mortgage application.

Home Sale
If you're selling your house, you can attract potential buyers by presenting an official pool inspection report. This also allows you to perform any necessary maintenance or repairs before putting your home on the market.

Existing Pool
We get it. Maintaining your pool is an ongoing cost, and you may be looking for ways to cut corners. But think of pool inspections as an investment. After all, hiring a pool inspector can save you thousands of dollars down the road by revealing hidden information about your pool and how to keep it in tip-top shape.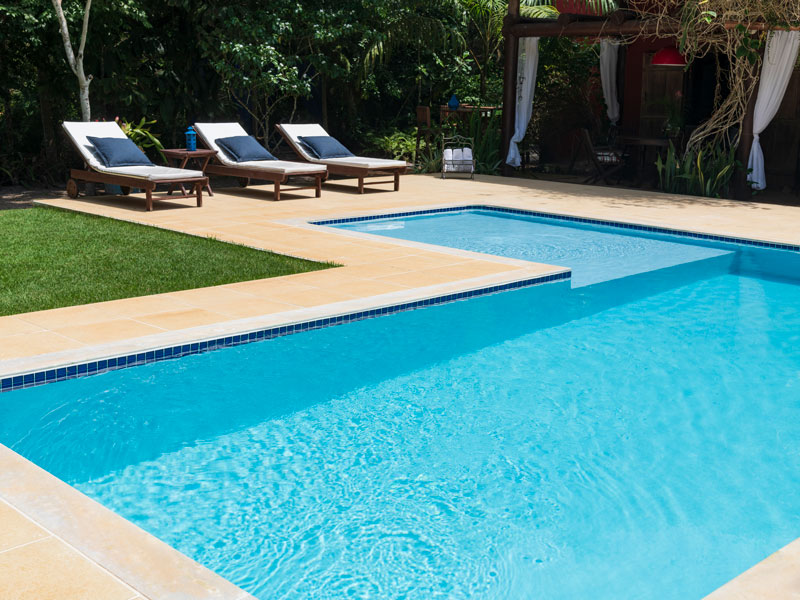 Why Hire a Pool Inspection Company?
Swimming pools need attention, or they can degrade over time. It's not uncommon for seemingly safe, well-maintained pools to have an underlying problem. Inspections ensure you aren't putting your family at risk by swimming in an unsafe pool. Hiring a professional inspector also presents the chance to ask about beneficial pool upgrades and replacements. If you're wondering how much a pool inspection cost, the exact pool inspection cost depends on the size, type, and condition of your pool, so give us a call to request a quote.
What's Included on a Pool Inspection Checklist?
A pool inspection entails visually checking all physical components in and around your pool. Here's what our swimming pool inspection checklist includes:

Pool Surface Inspection
The interior finish may be made of marmite, quartz aggregate, or pebble.

Pool Tile Inspection
We check all tiled surfaces and point out any sharp edges, missing grout, or loose tiles.

Pool Coping Inspection
The coping is the decorative edging that hangs over the pool's perimeter. If this material becomes loose or damaged, it could cause injury.

Pool Deck Inspection
Whether your decking is made of stone, concrete, brick, or wood, we'll give it a thorough once-over. Cracking, peeling, or an uneven slope may warrant resurfacing the pool deck.

Pool Equipment Inspection
We check the filter, pump, heater, piping, timers, valves, lights, and other components for noisy operation, missing parts, inefficient performance, and other flaws that could indicate poor maintenance or equipment malfunction.
Why Choose Pretty Pools for Pool Inspection Service in North Dallas?
With years of experience and an unwavering commitment to honesty, professionalism, and attention to detail, you know you can trust Pretty Pools to perform a high-quality pool inspection. We have serviced hundreds of pools throughout the Dallas area, satisfying thousands of customers in the process. Our experts can help make your pool everything you want it to be and more! To schedule pool inspection service in and around North Dallas, please contact Pretty Pools today.
Keep Your Pool Clean and Worry-Free